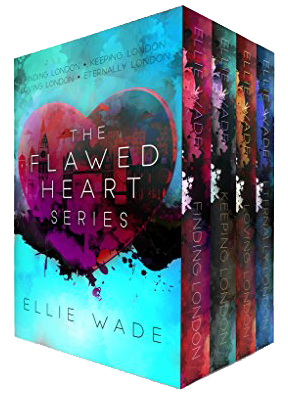 The Flawed Heart Series | Box Set
The Flawed Heart Series is complete. This four-book series follows London Wright and Loïc Berkeley as they navigate through life discovering who they want to be. Rugged and gorgeous, Loïc Berkeley, is everything she's ever wanted. Getting him to notice her was a challenge, but keeping his love is proving to be more difficult. For everything she has in her life, he's the one thing she can't bear to lose. Privileged but witty and breathtakingly beautiful, London Wright is his undoing. From the moment he laid eyes on her, he knew his life would never be the same. Though he tries to fight it, he finds himself falling for her. Yet, keeping her will prove to be more difficult.
"I think you'll find that more people are screwed up than you think. The trick is finding the person whose flaws are compatible with your own." – Loïc Berkeley
Their journey may not be a fairy-tale romance, but it is a love story. It's real. It's raw. It's beautiful.
What Readers are Saying About The Flawed Hearts Series Box Set
"Loved this series. The characters are so relatable and lovable you feel their emotions. This series touches on many subjects and keeps you emotionally invested the whole way through. Loic is amazing and London is just fabulous. Such a great series!!" ★★★★★ MJ
"This is a beautifully written story about two people that or total opposites. IT is heartwarming but there is also heartbreak. Better get the tissues out." ★★★★★ Kindle Customer
"This is a must read!! I loved every second of London and Loic's journey! So many emotions! Talk about a rollercoaster ride! It made me laugh, tear up, mad, flabbergasted and probably every other emotion in between! My heart broke for Loic so many times! He's such a genuine guy that dealt with more than any child should but still fought to overcome the odds. He may not be perfect but hes a fighter! London is a firecracker! She knows what she wants and she goes after it! Shes also a bit spoiled as Loic says. She also has a heart of gold and wants those closest to her to be happy. They have so many things going against them but yet so many going for them!! Their journey isnone you definitely want to read!!" ★★★★★ Tricia
"The Flawed series is absolutely amazing series. This series will have you laughing, crying, and screaming at both London and Loic. This is a series that deals with romance, war, and ptsd. Along with how the love of two people who absolutely belong together are put to the test. This is a MUST READ AND ONE-CLICK NOW Series. Ellie Wade is absolutely an AMAZING author and can write so real page turning books." ★★★★★ Nancy
"This is my absolute, favorite series! It doesn't matter how many times I read it, I still go through every emotion in every book like it's the first time all over again. Definitely one-click this so you can fall in love with Loic and London!" ★★★★★ Kindle Customer