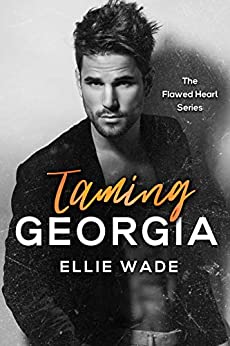 The Flawed Heart Series | Book 5
Georgia Wright is never in one place for too long. She's constantly traveling the world in search of adventure, a new cause to support, or something to save.
She grew up living the American dream. She had a supportive family, love, and money enough to afford her any opportunity her heart desired.
Yet, despite everything she has, her heart aches for more—something constantly right out of her reach. In a life of perceived perfection, she struggles to breathe—forever chasing happiness.
A new adventure places her face to face with the beautiful blues she's tried so hard to forget. The words that fell from his lips so long ago continue to haunt her shattered heart. Can she confront this piece of her past and finally let it go?
Wyatt Gates spends his days surrounded by dogs, rescuing those who can't save themselves.
As a boy who grew up on the wrong side of the tracks, he's been looked down on his entire life. It's never bothered him though because he doesn't care much for people anyway. He'd rather spend his time with animals. A dog's love is unconditional. They're honest and loyal, which is more than can be said for most humans.
Wyatt's given his heart away only once and he's always regretted it. He fell in love with someone that wasn't capable of loving him back and has spent every day since trying to erase her from his memory.
Most days are void of thoughts of her and he can almost convince himself that he never really cared until the day she walks back into his life. Past feelings engulf him, putting him right back where he was years ago.
He tries everything to push her away, desperate to close this chapter of his life for good. Yet, there's a quiet hope deep within that whispers for more.
Can he rise above his hurt and finally forgive her?
In a world where not everything is as it seems, is it possible that in the process of saving others, they just may save themselves?
A second chance romance full of self-discovery, forgiveness, and love.
***Intended for readers 18+ due to mature content.
What Readers are Saying About Eternally London
"This is a standalone, spin-off of The Flawed Heart Series. This book will not disappoint. But, be prepared, you will not want to put it down and when you finish it the characters will remain with you for a while. It is a beautiful second chance love story."……" ★★★★★ Amazon Customer
"Taming Georgia is part romance, heartbreak, and love story. Georgia and Wyatt both find their own ways to love themselves and their stories in order to be perfect for each other. Another great read, for a fall afternoon :)" ★★★★★ Amazon Customer
"Taming Georgia is an incredible love story between a well loved character and a passionate, kind loving man named Wyatt. It chronicles how a misunderstanding can change your life and how fate can bring you back together. Ellie once again provides us with a well written, easy to read romance novel that keeps you wanting to read just another page" ★★★★★ Jessica