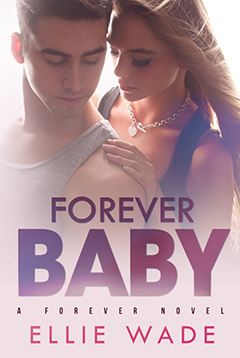 Typical college student, Olivia Marshall embarks on a once-in-a-lifetime trip to Spain with her best friend, Nolan, a handsome all-American. After three years, they share a special bond, but there's a fine line between friendship and…more.

Spain turns out to be more of an experience than Olivia imagined. She meets Andres Cruz, a mysterious, sexy man. Lead singer of a band, his charm and passion is rarely denied, and Olivia is immediately drawn to him.

Torn between two men promising her forever, Olivia will discover if she can trust herself and her instincts as she chooses between the comfort of what she's always known or the excitement of a connection she's never felt before.
Note: This book is intended for 18+ for language and sexual content
What Readers Are Saying About Forever Baby
"This was an engaging, sexy romance with just the right amount of angst to keep me on the edge. And I will tell you two of the MOST SWOONWORTHY Book boyfriends I have ever encountered. Nolan is a close second to my Jax!! Summer is almost upon us and this makes for the perfect BEACH read. I am looking forward to reading many more captivating stories from Ms Wade." ★★★★★ Arlene
"I really loved all the main characters and I enjoyed the development of the confidence and maturity needed by the female lead. I also enjoyed the love scenes and thought Ellie handled them all very tastefully while drawing the reader into the depth of emotion very well. Spicy but not slutty." ★★★★★ Amazon Customer
"Holy crap!!! This book was fan-f**kin-tastic!!!! The book grabs you from the very 1st page to the last!!! I could not put this book down!!! I'm just so damn happy that I read this book!!! I could just kick myself for having this book sitting in my kindle!!!
I think this book is truly a must read!! I will be definitely telling everyone about this great find!!!" ★★★★★ Michelle
"This book is great & this author might be my favorite. Her descriptions are perfect, characters are real, & the story line is unpredictable and exciting. I could SEE the book in my head and I could feel the happiness or torment that the characters feel. I can't wait to read another book by her!!!" ★★★★★ Nicole
"This book was probably one of the best books I have read in a really long time! I was completely captivated by the characters and the passion they had for each other. I even bawled like a baby while reading it! I would recommend this book to anyone who wants a good book with a ton of passion and a dynamic array of characters!" ★★★★★ Alyssa