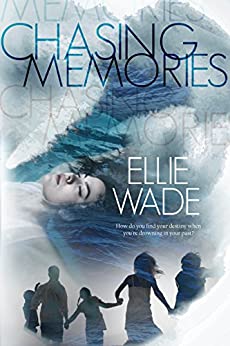 What if you found him, the one who was put on this earth for you? He was your perfect partner, your soul mate. Your life with him was more than you could have ever hoped for. The two of you created an amazing family full of so much love.
I did. And it was everything.
Then, one day, I woke up, and he was gone. They were all gone.
I can't accept it. I'm stuck in a reality that isn't mine, aching for the life I lost, one that made up the very fabric of my soul.
How do I find my future when my past won't stop pulling me under? I'm drowning, struggling to breathe in this existence where nothing makes sense. It might be crazy, and I might be as well.
But if you'd experienced the joy of a once-in-a-lifetime love, you'd be chasing memories, too.
***This is a standalone*** **Intended for readers 18+ due to mature content**
What Readers are Saying About Chasing Memories
"Just original and beautiful!!! I love her writing. I really have not read a book like this ever. This was an amazing book. EVERYONE should buy this book now and get intrigued with this book like I did. Falling in love again is beautiful." ★★★★★ Amy 
"Chasing Memories is not like any other plot I've read before, and that makes me very happy, yet it still holds true to Ellie's vision of the HEA. She has such a way with words, that you can not help but get tied to her characters." ★★★★★ Angela
"Ellie has a wonderful way of pulling all the feels out of you but she adds a touch of angst to keep you glued to the pages. The back and forth kept me guessing and the storyline had me intrigued. You have no idea where it's going, but her writing and the characters keep you invested. It truly embraces life, family and all the little moments we sometimes take for granted. It will definitely have you thinking about the things that matter most and will leave your heart fluttering inside your chest and at some points in to your stomach :P" ★★★★★ Tammi
"I absolutely loved this book. The yearning of mia. How everyone thought she was crazy. Her certainty that Aiden was out there. I kept hoping along with her that she would find him. The story just grabbed me from the start and wouldn't let go. I didn't want to stop even when it was time for bed. Picked it up as soon as I got up. Thank you ellie!" ★★★★★  Kindle Customer
"I loved this book. The story is interesting. Initially I couldn't decide if it was going to be a happily ever after love story, or a story about the fall into madness. I loved the author's descriptions of a wide range of emotions from pain, despair, sadness, confusion, love, happiness, gratitude etc. It was wonderfully written." ★★★★★ FarmerPhyl