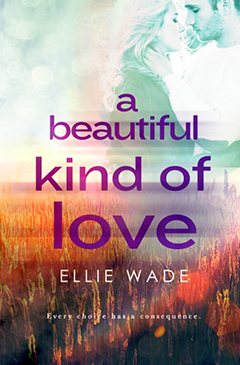 Every choice has a consequence.
I believe in soul mates. Why? Because I have one and his name is Jax Porter.
I have known Jax my whole life and I have loved him with every breath I've ever taken. The fact that we were born a mere month apart to mothers that are best friends has made us inseparable since birth.
What we have is so rare, one would think our story would be written, our fate sealed. But, unfortunately that's not how life works. Life offers us many choices that can turn destiny into chance.
I now find myself heading toward a destination that I could have never imagined and I have to figure out where to go from here.
Will the choices that have been made change our path forever or will fate find its way?
***Intended for readers 18+ due to mature content.
***This is book one of a two book series. Book two, A Forever Kind of Love is now available.
What Readers Are Saying About A Beautiful Kind of Love
"I'm not sure if I can put in to words how I feel about this book. I just finished and I am a total mess. This story will completely rip your heart out, put it back together again and then slowly rip it back out. In the most beautiful way possible if that makes any sense. Jax and Lily will be in my heart and head for a while and their beautiful love will continue to tear my heart out until I read the rest of their story. Because that's what this is. A beautifully written, heart wrenching story that has moved me in such a way that I'm not sure how to recover. This is seriously one of the worst book hangovers I've ever had. EVER." ★★★★★ Stacy
"One word…incredible! There were so many emotions going on with this book and I don't mean with the characters…..with me. I have always loved the premise of a boy and girl growing up as best friends. You may think it's been done to death, but I have to disagree. Ellie Wade took it to a whole new level….By the end of this book I was almost in tears. Nothing much I can say past this point without giving away too much. I will now sing the praises of the author, Ellie Wade, and say that she has such a beautiful way of expressing such intense emotions in her writing. I don't know how she does it but I hope she keeps it up. Thank you so much for such an enjoyable and heartfelt book." ★★★★★ Lisa
""Wow." is what I thought when I ended a beautiful kind of love. This novel was incredible for many, many reasons. First, can we talk about imagery for a minute? I love books that really details surroundings and inner thoughts because I want to be able to take what is given to me through words and turn them into my own personal series of pictures that only I could imagine and play out the story my way. Its why I choose reading and music over entertainment with visuals such as movies or shows. Ellie did an amazing job with the imagery and explanations, I felt what the characters felt." ★★★★★ Jess
"Having read both of Ellie's previous books, I was familiar with how well she can get the readers attention and keep it. But this book… she had me at the beginning, and had me completely. And still does. I'm not one to cry because of a book. Yes, I get sad when bad things happen and mad along with everyone else when things don't work out like we thought. But I can shake it off and continue reading. Ellie's writing of Jax and Lily's story made my chest ache when things were bad. Completely excited when things were good, and completely devastated when I got to the last page because I wanted more. I seriously couldn't read another book for a few days. For me – that almost never happens. EVER." ★★★★★ Angela
"I don't know where to begin! This book grabbed me from the very first page!! I just absolutely loved this book, loved Jax and Lily, and felt so many emotions! Yes, I cried! Ms. Wade takes you on a beautiful journey of two best friends from birth and their beautiful friendship! At the end of their junior year, the friendship blooms into a love that is more than love of a friendship. Then college and Jax and Lily come to a crossroads where their relationship is broken. Heartache, tears, hurt, love, all of these emotions come pouring through! Two souls made for each other, but can the souls find their way back? I felt the heartbreak and the end guts me, but I'm so looking forward to the next book. This book touched my soul with its story of a lifetime friendship, true love where souls connect, and the heartache of choices made at the wrong time. Don't miss reading this book! You will love it!!" ★★★★★ Jubie